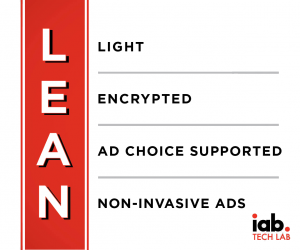 The IAB Tech Lab launched the LEAN Principles in late 2015. LEAN stands for Light, Encrypted, AdChoice-supported, Non-invasive ads. These are principles that will help guide the next phases of advertising technical standards for the global digital advertising supply chain.
L: Light. Limited file size with strict data call guidelines.
E: Encrypted. Assure user privacy with ads delivered over HTTPS. Protect server-to-server communication.
A: Ad Choices Support. All ads should support DAA's consumer privacy programs.
N: Non-invasive/Non-disruptive. Ads that supplement the user experience and don't disrupt it. This includes covering content and sound enabled by default.
Alongside efforts to promote secure ad delivery and other consumer protections, the IAB Tech Lab is developing tighter guidelines on page load impact and file sizes in order to have a lighter set of ads.
The IAB Tech Lab cares about the user experience, which is a top priority in all our activities as we develop creative standards and platforms.
The IAB Tech Lab will issue guidance on lighter ad standards for advertising sales and ad operations, aligning with HTML5 and other IAB Ad Unit Guidelines.
Our new guidelines and standards, with the sunset of Flash in favor of HTML5 has started a path towards better optimization, security, and user experience.
As part of the standards work, the IAB Tech Lab focuses on the minimum amount of data calls required to achieve good user experience and targeting, reducing latency and making sure consumers are served the ads that were intended for them.
The IAB Tech Lab is investing in the creation of new, dynamic, and responsive ad units that will further make user experience better across screens.
---
IAB Tech Lab Contact
Brendan Riordan-Butterworth
Senior Director,  Product
brendan@iabtechlab.com