By Dennis Buchheim and Jennifer Derke
Digital advertising is converging. Industry growth and maturation are being slowed by silos of media formats and channels (video, display, programmatic bidding, direct, etc.). It is time to think cross-screen, cross-media, with interoperability as the ultimate goal. Enter OpenMedia.
What is OpenMedia?
OpenMedia is the new common framework for Tech Lab technical specifications and protocols (OpenRTB, OpenDirect, etc.). Dependencies are understood at the outset and updates will be comprehensive across all media when needed. The approach is both conceptual (improving understanding of the specification landscape) and pragmatic (functioning as a tool to identify where new standards will be most effective). OpenMedia describes a layered approach (similar to Open Systems Interconnection (OSI) network model) to organizing transactional specifications and domain specifications — or simply, a layer for how to transact and a layer to describe what is transacted.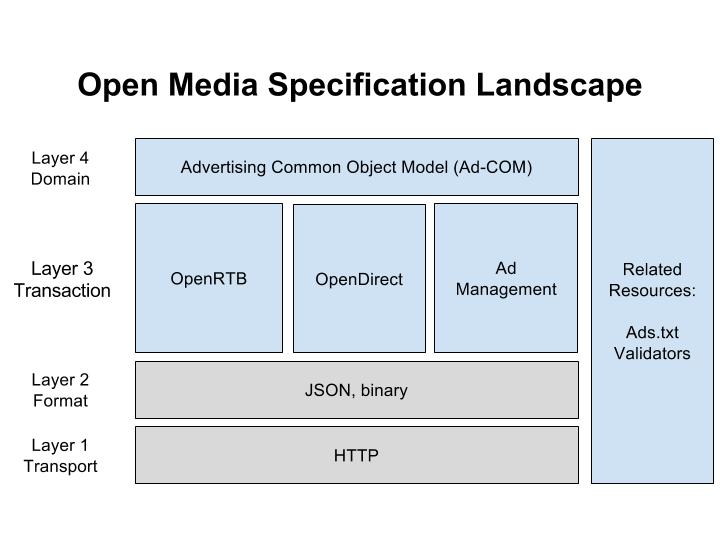 What are all these specifications?
The names of specifications in layers 3 and 4 all refer to standards operated by IAB Tech Lab. OpenRTB and OpenDirect are long standing protocols.
Coming soon this year (to be announced in further detail in September) are the Ad Management Specification and the Advertising Common Object Model (Ad-COM). Ad Management Specification will be released for public review in September, it describes a standardized way to approve creative. The Advertising Common Object Model describes the ad, the creative, and the media channels that are traded over OpenRTB transactions. Deconstructing the domain layer object model can give publishers control over the creative to be served in their inventory.
Why does OpenMedia matter?
By using OpenMedia and Ad-COM as the baseline for key technical standards, we will unify object models (saving bandwidth costs for technology partners), create functionality between transactional specifications (e.g., unlocking sales opportunities to be built between OpenRTB pipes and automated guaranteed pipes), and allow for rapidly scaling inclusion of new media objects (e.g., broadcast video).
New updates to technical specifications will be managed consistently with the OpenMedia perspective and methodology.
How does OpenMedia impact the technical protocols specifically?
OpenMedia is an umbrella concept. OpenRTB, OpenDirect, and other specifications are currently going through development towards their next iterations. The standards now have a system to coordinate development, and each standard will continue to have its own working group within Tech Lab.
How does OpenMedia impact Tech Lab working groups?
Looking forward, OpenMedia framework will be used to determine where new standards will be most effective without duplicating efforts. Typically, most working groups meet bi-weekly to update specifications. IAB Tech Lab members are invited to join working groups. Standards and specifications will always go through public review periods to get additional industry feedback.
We are pleased to announce this change that enables IAB Tech Lab and its working groups to develop consistent standards and work together more effectively. We also want to recognize that the establishment of a common framework was a priority for 2017, laid out by departing Tech Lab GM, Alanna Gombert, and we look forward to working with Tech Lab member companies to build on this vision and foundation.
For any questions about IAB Tech Lab's OpenMedia Specification Landscape or any of the working groups within IAB Tech Lab, please reach out to openmedia@iabtechlab.com.
---
ABOUT THE AUTHORS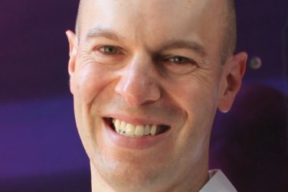 Dennis Buchheim, SVP & General Manager, IAB Tech Lab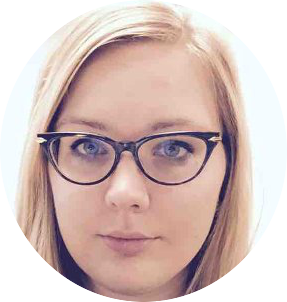 Jennifer Derke, Director, Product Management, IAB Tech Lab