OpenMedia Specification Landscape
What is OpenMedia?
OpenMedia is the perspective and methodology for the specification landscape within which our programmatic standards live. It is the new common framework for Tech Lab technical specifications and protocols (OpenRTB, OpenDirect, etc.).The approach is both conceptual (improving understanding of the specification landscape) and pragmatic (functioning as a tool to indicate where new standards will be most effective). OpenMedia describes a layered approach (similar to Open Systems Interconnection (OSI) network model) to organizing transactional specifications and domain specifications – or simply; a layer for how to transact, and a layer to describe what is transacted.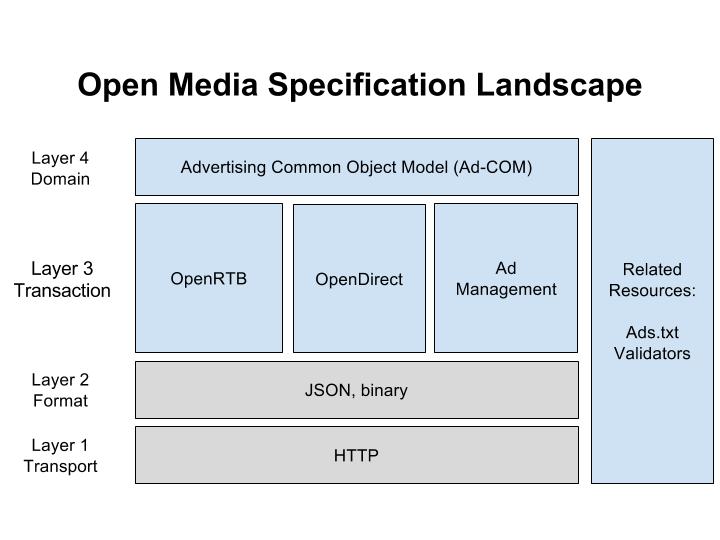 What are all these specifications?
The names of specifications in the Transaction Layer 3 and Domain Layer 4 all refer to standards operated by IAB Tech Lab.
OpenRTB is the transactional protocol for real time bidding.
OpenDirect is the transactional protocol and order management API standard for automated guaranteed buying and selling.
Ad-COM is the Advertising Common Object Model that describes the media objects that are bought and sold across any transactional protocol. The Common Object Model for Ads describes the ad, the creative, and the media channels that are traded over OpenRTB transactions. Deconstructing the domain layer object model can give publishers control over the creative to be served on their page. This will be a new specification at IAB Tech lab released in September.
Ad Management API Specification provides a standardized way for buyers and sellers to communicate in an automated creative approval process. This will be a new specification at IAB Tech lab released in September.
Why does OpenMedia matter?
By using OpenMedia as the baseline for all programmatic standards, we will unify object models (saving bandwidth costs for technology partners), create functionality between transactional specifications (unlocking sales opportunities to be built between RTB pipes and automated guaranteed pipes), and allow for rapid scalability of inclusion of new media objects (like broadcast video, etc).
Throughout the fall of 2017, in the months after this announcement of the OpenMedia perspective and methodology, IAB Tech Lab will be releasing new updated programmatic specifications for public comment.
How Does the OpenMedia impact OpenRTB and OpenDirect?
OpenMedia is an umbrella concept for OpenRTB and OpenDirect. OpenRTB and OpenDirect are currently going through development towards their next iterations. Programmatic standards now have a system to coordinate development, and each programmatic standard will continue to have its own working group within Tech Lab.
How Does OpenMedia impact Tech Lab working groups?
OpenMedia framework will be used to determine where new standards will be most effective without duplicating efforts. Typically, most working groups meet bi-weekly to update specifications. IAB Tech Lab members are invited to join working groups. Standards and specifications will always go through public review periods to get additional industry feedback.
How can I learn more about OpenMedia and the programmatic specifications?
IAB Tech Lab Members are invited to upcoming events:
OpenMedia and OpenRTB 3.0 Seminar in NYC – Date TBD
Plus, we will schedule some webinars
We are pleased to announce this change that enables IAB Tech Lab and its working groups to develop consistent standards and work together more effectively. For any questions about IAB Tech Lab's OpenMedia Specification Landscape or any of the working groups within IAB Tech Lab, please reach out to openmedia@iabtechlab.com