IAB Tech Lab @ DMEXCO 
Cologne, Germany, September 14-15 2016
Wednesday, September 14th 2016
4:00PM-6:00PM – IAB Tech Lab & Improve Digital Happy Hour – Hall 08/E040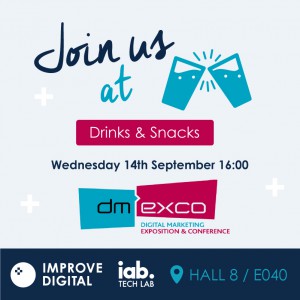 Thursday, September 15th 2016
9:30AM – Header Bidding Breakfast Sponsored by C1X – Hall 06/F024

The Open/Inclusive Approach to Header Bidding
The most successful strategy for Header Bidding is one of inclusion. An inclusive strategy positions a publisher to accept more demand partners. Demand diversity creates upward price pressure and a healthier revenue stream. An Open and Inclusive approach starts with taking on current best practices and tailoring them to fit your own needs. C1X will share strategies and success stories on how this is done.
3:00PM-6:00PM – IAB Tech Lab Beer Pong Competition – Hall 06/F024
Stop by the IAB Tech Lab Booth for some happy hour competition and a chance to win prizes!
2:00PM – OpenRTB DMEXCO Meetup – Hall 06/F024
Interested in learning more about the OpenRTB protocol? Come meet the co-chairs and other working group members for discussion and drinks!