IAB Tech Lab has worked closely with ANA/DMA, CIMM, and ARF to develop an industry-first standard aimed at bringing transparency to the data marketplace. This work is ultimately intended to align with IAB Tech Lab's Data Transparency Framework Proposal, published for public comment in May 2018. Recognizing the value of engaging a broader cross-section of the advertising ecosystem, the plan for this work has evolved, leading to collaboration with ANA/DMA, CIMM, ARF, and now IAB's Data Center of Excellence. Together with IAB Tech Lab, these trade organizations broadly represent industry stakeholders, bringing the full weight of the marketer, agency, publisher, and ad tech community behind the new standards.
The announcement marks an exciting and long-overdue advancement in the audience addressability space that strengthens digital marketing's core role in supporting online content and services, and mutually benefits advertisers, consumers, and platforms alike.
For more information, the full press release can be found below.
---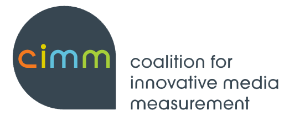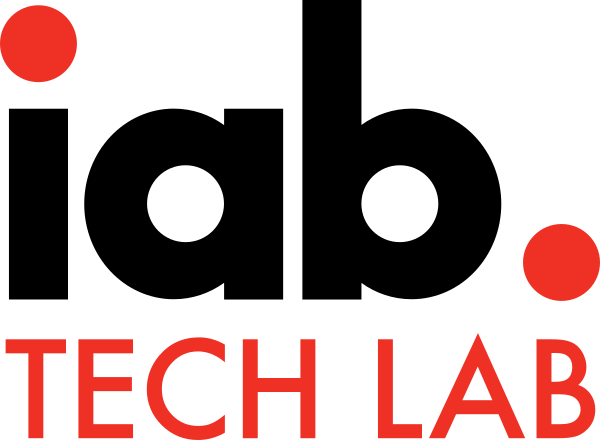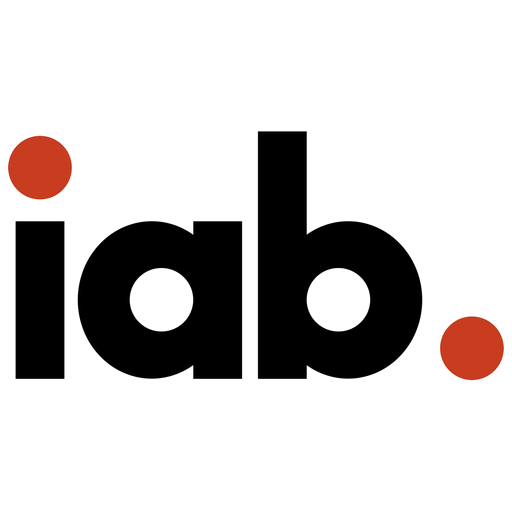 Contact: Bill Daddi
Daddi Brand Communications
646-370-1341
917-620-3717
Bill@DaddiBrand.com
Cross-Industry Initiative Brings New Transparency Standards To $20 Billion Marketplace
Beta version release commences four-month public comment period
New York, October 1, 2018 – Leading marketing and media trade groups today unveiled the beta version of a new industry standard Data Transparency Label. The new label was developed by the ANA's Data Marketing & Analytics (DMA) division, the IAB Tech Lab, the Coalition for Innovative Media Measurement (CIMM) and the Advertising Research Foundation (ARF).
The Data Transparency Label was introduced during a presentation at Advertising Week 2018 with support from ANA, The ANA Council for Data Integrity, IAB Tech Lab's Data Transparency Standards Working Group, IAB's Data Center of Excellence, CIMM and ARF.
The label is the culmination of more than a year's work in developing a "nutritional label" equivalent for audience segment data sets that discloses source, collection, segmentation criteria, recency and cleansing specifics. The group is also establishing a centralized database to house the label information, as well as an associated compliance program that will govern disclosure, certification and validation.
The trade associations and their members were motivated to develop this standard Data Transparency Label to help reputable marketers, fundraisers and agencies better leverage data in a responsible manner, to enable the delivery of increasingly-relevant messages to consumers and donors and to improve the overall consumer experience with content and advertising. Today, data buyers are making billions of dollars in media spend decisions based on audience segmentation data, but few tools enable marketers to learn "what's inside" the data they buy.
The Data Transparency Label, which was developed to serve as an industry standard, is comprised of four descriptive sections designed to better inform buyers of each data set's ingredients:
Data Solution Provider and Distributor Information
Who provided the data segment, inclusive of contact information, for both data solution distributor and, where applicable, original data provider;

Audience Snapshot


What audience segment the label describes, including both the provider's branded audience segment name as well as the most relevant segment name from a new standardized taxonomy, a top-line audience description and applicable geographic coverage;

Audience Construction


How the segment was constructed, inclusive of details such as audience count, any applicable modeling or cross-device ID expansion that may have been applied, audience refresh rates, and event lookback window for inclusion;

Source Information


Where the original data components were sourced. Required for each significant data source, this component includes details on data provenance, data collection techniques, refresh frequency, and event lookback window.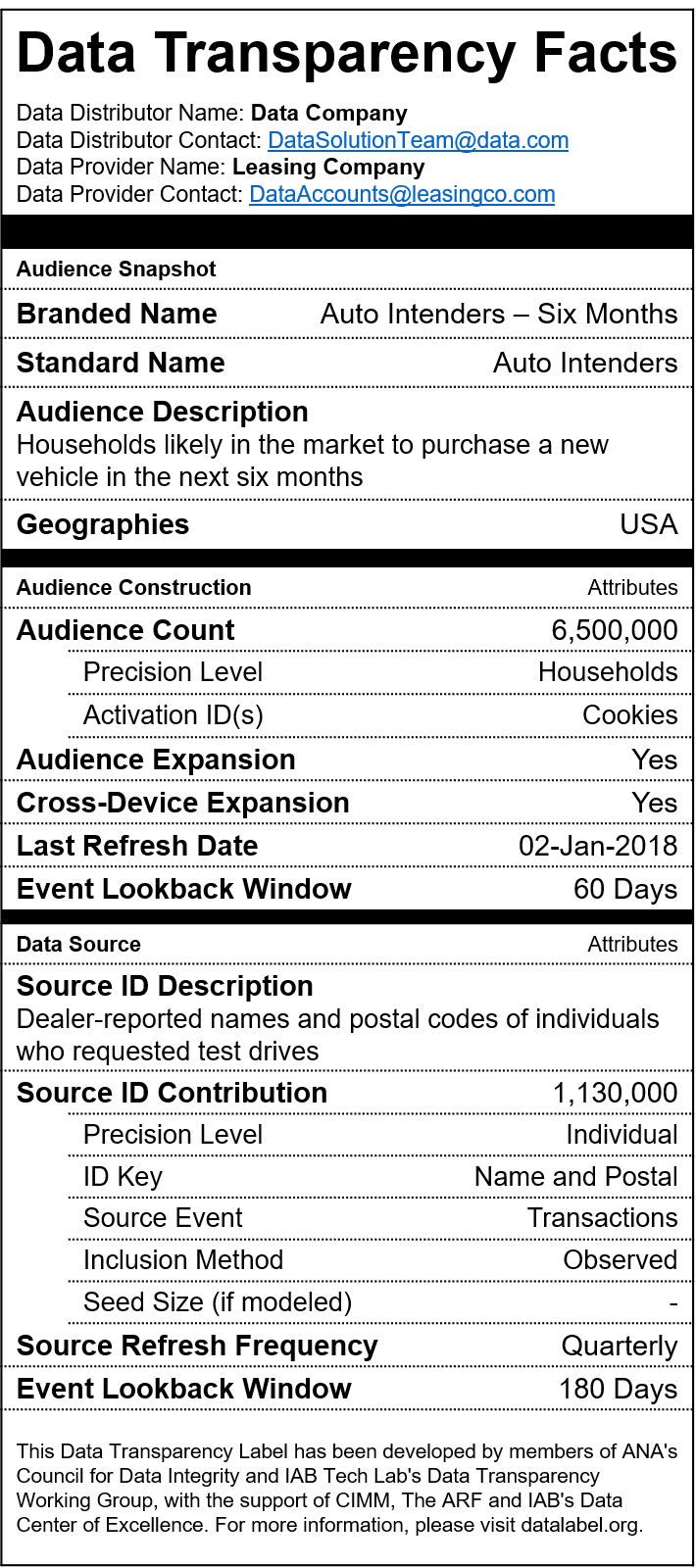 With today's announcement, data, technology, media and marketing companies are now being invited to participate in a six-month public comment period, during which time participants can test-drive the label with up to fifty common syndicated audience segments provided by globally-recognized data solution providers such as Oracle Data Cloud, LiveRamp, Neustar, Lotame, Acxiom, Experian, TruSignal, Fluent and FullContact.
During the six-month public comment period, interested parties can explore how a Data Transparency Label can be used and accessed at DataLabel.org, an online tool that demonstrates how viewers could search, inspect, and compare sample labels housed either within a participating DMP/DSP platform, or directly on DataLabel.org as a distinct access point.
Along with ANA, IAB, IAB Tech Lab, CIMM, and ARF, this initiative is being driven by 15 association member companies, including a Leadership Committee that includes LiveRamp, MediaMath, Neustar and Oracle Data Cloud, and a working group that includes 1-800-FLOWERS, Acxiom, Disabled American Veterans (DAV), Experian, FCB/SIX, FullContact, Fluent, Moxie, Publisher's Clearing House, TruSignal, MetLife and the United States Postal Service.
"Client-side marketers and fundraisers have been demanding better standards around data quality and integrity. We felt it was important to corral several industry wide initiatives into one industry standard to enhance efficiency and to improve the toolset that client-side marketers and fundraisers use to make important decisions about data segments. In collaboration with CIMM, ARF, IAB and IAB Tech Lab we are delighted to bring this important tool in data transparency to market," says Tom Benton, ANA Group EVP, DMA Division. "The industry now has a well-considered, easy to use and easy to understand label that clearly defines critical data source information. We hope that the transparency this label brings will be a driving force that improves data integrity, data quality, and the decisions that marketers and fundraisers make every day."
"The Data Transparency Label enables meaningful understanding of segment attributes and sourcing practices across data providers," said Dennis Buchheim, Senior Vice President and General Manager, IAB Tech Lab. "The collaboration with ANA, CIMM, ARF, and IAB – alongside complementary Tech Lab efforts to facilitate privacy-compliant data access and activation through a common ID namespace – enables more effective and responsible use of data in marketing and helps improve consumer ad experiences. As a whole, these initiatives provide a foundation to support digital marketing's ongoing role in funding content and services."
For more information on the Data Transparency Label or to participate in the proof of concept and public comment process, please contact – participate@datalabel.org.
ABOUT THE ANA
The ANA (Association of National Advertisers) makes a difference for individuals, brands, and the industry by driving growth, advancing the interests of marketers, and promoting and protecting the well-being of the marketing community. Founded in 1910, the ANA provides leadership that advances marketing excellence and shapes the future of the industry. The ANA's membership includes nearly 2,000 companies with 25,000 brands that engage almost 150,000 industry professionals and collectively spend or support more than $400 billion in marketing and advertising annually. The membership is comprised of more than 1,100 client-side marketers and more than 800 marketing service provider members, which include leading marketing data science and technology suppliers, ad agencies, law firms, consultants, and vendors. Further enriching the ecosystem is the work of the nonprofit ANA Educational Foundation (AEF), which has the mission of enhancing the understanding of advertising and marketing within the academic and marketing communities.  For more information, visit www.ana.net.
About IAB Technology Laboratory
The IAB Technology Laboratory (Tech Lab) is a non-profit research and development consortium that produces and provides standards, software, and services to drive growth of an effective and sustainable global digital media ecosystem. Comprised of digital publishers and ad technology firms, as well as marketers, agencies, and other companies with interests in the interactive marketing arena, IAB Tech Lab aims to enable brand and media growth via a transparent, safe, effective supply chain, simpler and more consistent measurement, and better advertising experiences for consumers, with a focus on mobile and TV/digital video channel enablement. The IAB Tech Lab portfolio includes the DigiTrust real-time standardized identity service designed to improve the digital experience for consumers, publishers, advertisers, and third-party platforms. Board members include AppNexus, ExtremeReach, Google, GroupM, Hearst Digital Media, Integral Ad Science, Index Exchange, LinkedIn, MediaMath, Microsoft, Moat, Pandora, PubMatic, Quantcast, Telaria, The Trade Desk, and Yahoo! Japan. Established in 2014, the IAB Tech Lab is headquartered in New York City with an office in San Francisco and representation in Seattle and London. Learn more about IAB Tech Lab here: https://www.iabtechlab.com/
About CIMM
The Coalition for Innovative Media Measurement (CIMM) is comprised of leading video content providers, media agencies and advertisers that aim to promote innovation and foster efficiencies in audience measurement for television and cross-platform video. CIMM explores and identifies new methodologies in audience measurement and verifies these approaches through a series of pilot tests and studies conducted with independent measurement companies. CIMM's primary focus is on two key areas: the current and future potential of television measurement through the use of return-path data, and new methods for cross-platform media measurement. www.cimm-us.org.
About The ARF
Founded more than 80 years ago, the ARF is dedicated to creating, curating, and sharing objective, industry-level advertising research to enable members to make a true impact on their advertising and build marketing leadership within their organizations. It has 400 members from leading brand advertisers, agencies, research firms, and media-tech companies. www.thearf.org.