REARC: Build for Privacy Series – London (Paid Conference)
November 16 @ 8:00 AM

-

6:00 PM

GMT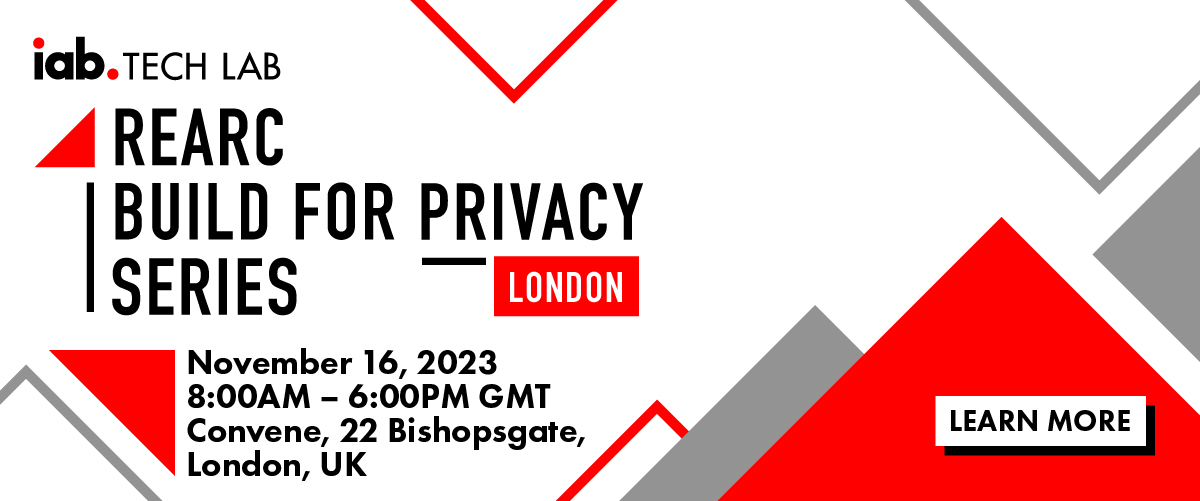 It is time to build! Combined with Privacy Enhancing Technologies (PETs), the private internet is here. The 'BUILD' event series will bring together privacy technology and policy experts from publishers, advertising technology providers, and government regulators to discuss the development and application of new privacy-enhancing technologies, addressability solutions, and how to achieve compliance with government regulations based on Tech Lab's compliance and audit frameworks.
We will specifically discuss:
Privacy technology for regulatory compliance such as the Global Privacy Platform, Accountability Platform, Transparency and Consent Framework, and the Post-Transaction Consumer Rights Framework

Cookie-less Addressability Solutions like Seller Defined Audience (SDA), ID solutions and interoperability standards across ID resolution platforms

Data Clean Room technical standards and applications

Privacy Enhancing Technologies

as the foundation for a sustainable and inherently private internet will dive into consumer privacy and data security use cases using core PETs applications such as differential privacy, multi-party and private computing, on device technologies like Privacy Sandbox. The discussions will focus on PETs' utility for critical advertising use cases, including attribution, targeting, measurement, and frequency capping.
The Tech Lab Future of Privacy events are an opportunity to dive deep into the technologies and solutions being developed for addressability, privacy and data security and to understand their application, benefits and limitations. They will also provide a window into the future with insights and demonstrations of the application of PETs to the most pressing use cases and how to understand the privacy-enhancing changes being deployed by the big technology platforms.
These events combine the content of several of our past events into one comprehensive privacy-centric day and include local content.
Agenda
9:05 – 9:10 AM

Welcome, Opening

Rowena Lam, Sr. Director, Privacy & Data, IAB Tech Lab

9:10 – 9:25 AM

REARC: Implement for Impact

Nearly four years after project rearc was launched in Feb 2019, we've made progress as an industry. We want to recap how far we've come, with releases like Seller Defined Audiences, Global Privacy Platform and more upcoming in 2023.

Tony Katsur, CEO, IAB Tech Lab

9:25 – 9:45 AM

Navigating the Privacy Maze

Check in with the experts on how to think about privacy compliance in the coming year. We'll tackle what's changed since the beginning of the year, and what to expect as we head into 2024.

Julien Delhommeau, COO, Utiq France

Ninon Vagner, Privacy Director, IAB Europe

9:45 AM – 10:00 AM

Managing User Consent and Preferences Across the Globe with GPP

The Global Privacy Platform was released in September of last year and currently supports consumer consent and choice for multiple jurisdictions. Learn about how the GPP is helping the industry comply with privacy regulations throughout the globe.

Rowena Lam, Sr. Director, Privacy & Data, IAB Tech Lab

10:00 – 10:20 AM

What's New in TCF?

Join us as we delve into the recent developments in the Transparency & Consent Framework (TCF) with the launch of TCF 2.2. In this session, we'll explore the key policy amendments and technical specification updates that have been introduced to help digital advertising stakeholders comply with evolving regulations, including the ePrivacy Directive and GDPR.

Kenta Barrett, Solutions Engineer, OneTrust

10:20 – 10:40 AM

1+1=3 with Accountability

As privacy legislation enters its age of enforcement and audits, AdTech finds itself under a microscope of analysis. How will AdTech approach accountability and monitor the health of user preference signal communication throughout the ads ecosystem? Learn how the Accountability Platform will help answer these questions for the industry.

Lon Pilot, SVP, Global & MD, Choreograph

10:40 – 11:10 AM

Networking Break

11:10 – 11:40 AM

Google's Privacy Sandbox Commitments and the UK CMA's Role

This session will explain the background to Google's Privacy Sandbox commitments – what concerns they intend to address, what they require Google to do, and the CMA's role. The UK CMA will provide an update on how they are assessing Google's changes, informed by conversations with the industry. They will explain next steps, including plans for Google and industry testing, and address remaining competition concerns before third party cookies are deprecated in Chrome.

Marcus Grazette, Assistant Director of Technology Insights, CMA

Chris Jenkins, Director, Digital Markets Unit, CMA

11:40 – 11:50 AM

Privacy Sandbox Task Force

Google's Privacy Sandbox introduces an entire new way of doing targeted advertising while preserving user privacy. In this session find out how Privacy Sandbox works and what the new workflows will be. We will be discussing IAB Tech Lab's Privacy Sandbox Task Force, which aims at providing education and exploring the changes and limitations introduced by these new workflows.

Miguel Morales, Director, Addressability & PETs, IAB Tech Lab

11:50 – 12:00 PM

ID Solutions Guidance


There are a lot of different types of IDs in the world of AdTech. What makes them different and unique? How do they work? What can you use them for? We answer all of these questions and more in the recently released ID Solutions Guidance. In particular, how do you know which ID you should use and integrate with and how do you measure their effectiveness when running a campaign?

Anissa Connor, Sr. Product Manager, ID5

12:00 – 12:35 PM

Holistic Identity Strategies – Overview

The "new normal" technical landscape requires a portfolio of approaches to targeting, measurement, and attribution. How do you evaluate the various IDs available in market to prioritize your technical roadmap.

Alasdair Cross, VP, Sales, Roq.ad

Christian Carlsson, Global Head of Addressability Solutions, LiveRamp

Ed Pizey, VP, Data & Technology Consulting, Publicis Media

Mathieu Roche, CEO & Co-Founder, ID5

Moderator: Shailley Singh, EVP, Product & COO, IAB Tech Lab

12:35 – 12:55 PM

1st Party Curated Addressability

As the significance of first-party data has surged, publishers are presented with an array of challenges in safeguarding their data from unauthorized access and misuse. In this session, learn more about the First-Party Curated Addressability proposal aimed at empowering publishers to communicate how the first party data they transmit can be used and shared.

Robert Blanck, General Manager Advertising & E-Commerce, Axel Springer

Achim Schlosser, CTO, European netID Foundation

12:55 – 2:20 PM

Lunch

2:20 – 2:40 PM

On Device & Addressability

Data minimization is among the pillars of modern privacy approach. One way to accomplish data minimization is to leave it on the user's device. In this session, organizations pioneering on device addressability technology will explore how its done and what are the capabilities and limitations. We will get into details on how these are deployed, what specific use cases and advertising types does it enable and how do they protect the privacy of consumers.

Daniel Pike, Chief Product Officer, Covatic

Emma Raz, Director of Commercial, NumberEight

Moderator: Shailley Singh, EVP, Product & COO, IAB Tech Lab

2:40 – 2:55 PM

What is Interoperability?

What does interoperability really mean and how publishers and advertisers benefit from interoperability in Data Clean rooms operations. How can publishers and media owners work with their partners to take advantage of interoperable clean rooms. How OPJA implements interoperability by design. This session will address all these questions and more on interoperability in ad tech ecosystem.

James Prudhomme, CRO, Optable

Shailley Singh, EVP, Product & COO, IAB Tech Lab

2:55 – 3:05 PM

Differential Privacy Guidance

This popular Privacy Enhancing Technology (PET) is used throughout AdTech, including Google's Privacy Sandbox. Find out more about this technique, how it works at a high level, how it can be used with other PETs, and how it is used in various AdTech products.

Pete Danks, VP of Product, Magnite

3:05 – 3:25 PM

Readiness for Deployment and Barriers to the Adoption of PETs

The use of PETs comes with their own relative advantages and drawbacks, which requires consideration of the context of their application and the supporting roles to be played by other actors in the broader PETs ecosystem. This session will consider the maturity of selected PETs to illustrate the current readiness for deployment and the remaining barriers that are presently hindering the wider adoption of PETs.

Calum Inverarity, Sr. Researcher, Open Data Institute

3:25 – 3:55 PM

Networking Break

3:55 – 4:10 PM

The Evolution of PETs in AdTech & Data Collaboration

What are we talking about when we talk about PETs?

Privacy-enhancing technologies (PETs) are increasingly valuable components of any tech stack. In this session join Lauren Kaufman, Sr. Product Manager at Habu, as she breaks down the evolution of PETs in AdTech from how PETs adoption is going to how to leverage them for better data collaboration.

Lauren Kaufman, Sr. Product Manager – Privacy Enhancing Technologies, Habu

4:10 – 4:40 PM

Using Privacy Enhanced Technologies to Support Measurement and Optimization

In this panel, learn how companies are evolving the use of privacy-enhanced technologies to securely analyze sensitive datasets across companies for reporting and measurement use cases.

Benjamin Atkinson, EMEA Lead, AWS Advertising & Marketing

Andrew Knox, Product Manager, Decentriq

Ruth Reynolds, Head of Technology Solution, Havas Media UK

Sanjay Saravanan, Software Engineering, Ads Privacy, Meta

Moderator: Shailley Singh, EVP, Product & COO, IAB Tech Lab

4:40 – 5:00 PM

Ad Fraud in the Age of Privacy: Exploring Challenges and Effective Countermeasures

How can the digital marketing ecosystem look to evolve to preserve user privacy without sacrificing needed momentum in security? In this panel discussion, HUMAN, alongside industry experts will discuss if it has to be a choice between the two, or if privacy and security can coexist.

Joe Tallett, Sr. Engineering Manager, Human

Donal Kane VP, SSP, Edmodo

5:00 – 5:20 PM

A Primer on Interoperable Private Attribution

Measurement is deemed to be an important use case by everyone in the advertising industry and yet it is at risk from platform and legislative changes. In this session Meta will introduce Interoperable Private Attribution, a private advertising measurement proposal they have been working on in W3C in collaboration with Mozilla. They will outline how it works, the underlying Privacy Enhancing Technologies in use, and how you can learn more.

Sean Bedford, Business Engineer, Meta

5:20 – 5:25 PM

Closing Remarks

Rowena Lam, Sr. Director, Privacy & Data, IAB Tech Lab

5:30 – 6:30 PM

Cocktail Networking Reception

Kings Arms

27 Wormwood Street, London EC2M 1RP
Pricing Tiers
$475 tier three Nov 4- Nov 17
Speakers:

Lon Pilot
Senior Vice President, Global and MD
Choreograph

With over 27 years of experience in software development, Lon has dedicated the past 16 years to the dynamic field of online advertising technology (AdTech). Currently serving as the Senior Vice President of Engineering, Global at Choreograph, a WPP company, Lon has consistently focused on developing and enhancing multi-tiered systems that operate over the internet.
Throughout his career, he has predominantly worked on the back-end aspects of web systems, including Web 2.0 and other iterations. Within the realm of online advertising, his expertise lies in web and video ad servers, campaign management and optimization systems, as well as data management platforms. He has had the opportunity to contribute to the development of massive-scale systems, dealing with the complexities of large volumes of aggregated data.
Passionate about data privacy, sustainability, and diversity, equity, and inclusion (DE&I), Lon is committed to fostering a digital ecosystem that respects user privacy and upholds the highest ethical standards. He strongly believes in leveraging technology to create sustainable solutions that minimize the environmental impact of our systems and processes. Additionally, he actively promotes diversity, equity, and inclusion within the industry, recognizing the value of diverse perspectives and working towards creating an inclusive environment where everyone can thrive.
Having witnessed the emergence of big data tools in the early stages of his online advertising journey in 2007, Lon has continuously adapted to the evolving landscape, leveraging his extensive experience to navigate the challenges of this fast-paced industry.
Lon thrives on the intricate details and inner workings of technology, always striving for innovation and pushing the boundaries of what is possible in the realm of data processing. With a proven track record of success and a passion for driving technological advancements, he is committed to delivering high-quality solutions that propel businesses forward in the ever-evolving digital landscape.
Lon Pilot
Senior Vice President, Global and MD
Choreograph
Sponsors:
Principal Sponsors: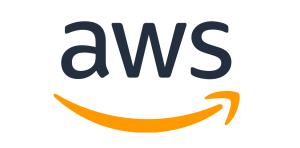 VIP Sponsors: