Part of the blog post series: CTV Advertising Standards: IAB Tech Lab Standards & Guidance
Executive Summary:
Measurement and verification are key components of digital advertising, and can be a key differentiator between Connected TV (CTV) advertising and traditional broadcast TV.
Challenges to measurement on CTV include device operating system (OS) access and Server-Sider Ad Insertion (SSAI) environments.
Features in the Video Ad Serving Template (VAST) 4.x and Open Measurement (OM) support measurement for CTV.
The Details:
Digital advertising has been successful in part because of the ability to measure and validate quality and delivery of ads rendered on a user's device. Measurement and verification are especially key components of digital video, and getting this right on CTV is critical as the medium grows rapidly. The two main challenges with CTV measurement are (1) lack of access to many device platforms / operating systems, which means that third-party verification vendors cannot run client-side in many cases, and (2) the increasing use of Server-Side Ad Insertion (SSAI) in CTV ad delivery, which results in new complications around invalid traffic (IVT) detection. These challenges have meant that there has only been fragmented and proprietary support for measurement on CTV and SSAI platforms. Tech Lab has correspondingly focused on standardizing around VAST 4 and Open Measurement (OM) to deliver better measurement support for CTV platforms.
For VAST to better support CTV, we have:
Introduced a number of macros (like "SERVERSIDE") to better support SSAI
Provided guidance around HTTP headers that can help with SSAI support
Deprecated VPAID (which cannot run on CTV platforms) and replaced it with Open Measurement (OM) (For a more detailed discussion, read our blog post on the topic.)
Open Measurement was originally started to support mobile platforms by providing a common, shared SDK that all publishers can use and all verification vendors can trust. We are now expanding OM to the web (as a replacement for VPAID). We have also seen support for SSAI in some implementations, along with a mobile OM client. The vision for Open Measurement is to have a common API (Open Measurement Interface Definition or OMID) that third-party verification vendors can integrate with, along with SDKs for every platform.
The working group continues to look for solutions to improve and expand SSAI support, as well as client-side CTV support in Open Measurement. The CTV plans include relatively quick wins like porting OM to Apple tvOS and Android TV, while also working with other platforms to determine the best way to implement support on those platforms. Stay tuned over the next few months for new announcements in this area!
Related assets & new efforts:
---
ABOUT THE AUTHOR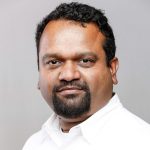 Amit Shetty
Senior Director, Product
IAB Tech Lab